Lemmy
Follow communities anywhere in the world
05.12.23
overview
population
~ 1 989 845
accounts
active users
~ 120 030
people
servers

> 952

instances

(statistics updated regularly, latest update - 03 Dec 2023)
world
communities
connects
Friendica

,

Mastodon

,

Pleroma

,
Lemmy is a self-hosted link aggregation and discussion platform. It's like Reddit or Hacker News, but better. Content is organized into communities, so it's easy to subscribe to topics that you are interested in, and ignore others. Voting is used to bring the most interesting items to the top.
Lemmy interface
Alternative Photon interface
Alternative Alexandrite interface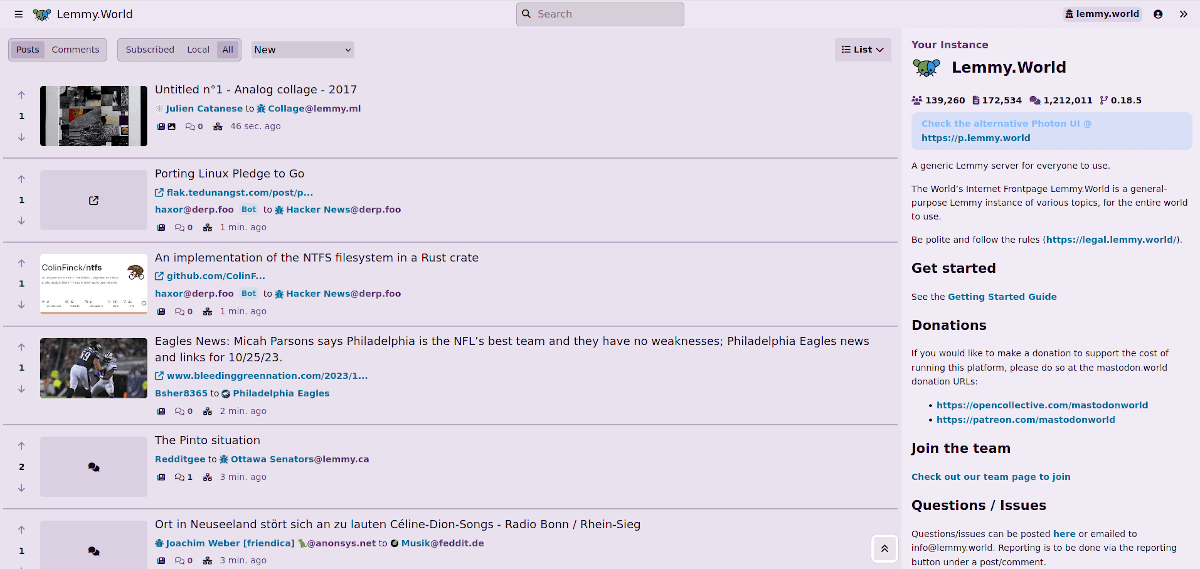 features
full vote scores (+/-) like old Reddit
emojis with autocomplete support
themes
NSFW post / community support
join the network
Choose a server with open registrations and create an account:
Choose a mobile application from the available ones:
contributing
Please, keep in mind that you are a participant, not a customer.
DONATE
If you'd like to help the Lemmy network grow, you can contribute in different ways.
Donate to development team or the administrator of your server (if you have the means to do that).
Set up your own instance, to make federation stronger and healthier, with many small servers.
Spread the word. Invite your friends. Explain why it's important.
Contribute with code. Send a pull request. Resolve an issue. Take a bounty.
Help translating. Design promo materials. Print and distribute stickers.
Thank you. See you in Lemmy.